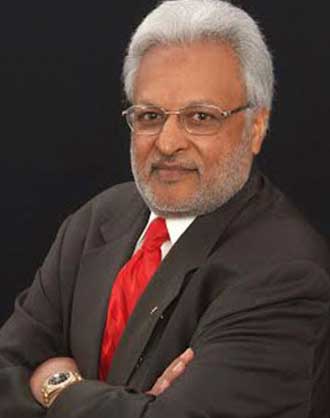 Founding Chairman Shalabh "Shalli" Kumar
Honored guests, dear friends and new friends, it is my great honor and privilege to welcome you to a historic moment – the launch of the Republican Hindu Coalition.
Having watched the Republican Jewish Coalition RJC work to achieve its goals , and after conferring with many prominent Hindu Americans, I was inspired to found the RHC . I could not have done it without the support of my dear friends on the dais and many of you in the audience. Thank you and Thank you.
At RHC we welcome Hindu Americans from not just from India, but also Sri Lanka, Nepal, Bangladesh, Africa, Europe and elsewhere in the world. As many of you know, Hinduism is much more than a religion, it is a Way of life for all faiths born in Hindustan or Bharat, the constitutional name for India.
India's economy is growing faster than any other and given its size, such growth has a huge impact on trade and prosperity all over the world. India's position of leadership in the region makes it United States' greatest and most important allies. The election of Narendra Modi as India's new Prime Minister, showed a dramatic shift on the part of India's populace toward an ideology that values more economic freedom and opportunity with limited smaller government.
These are values shared by the Republican Party in the United States. Given shared commitments to 4F principles: F ree enterprise, Fiscal discipline, strong Family values and Firm Foreign policy, I believe it is our duty as successful and influential Hindu Americans to ensure that the ties between India and the United States, the world's two largest democracies, grow even stronger.
RHC can and will play a VERY important role in this mission.
RHC will build a common unified platform so that Hindu Americans have a Voice, a BIG voice on the policy tables of both the United States and India.
We are aided in this important effort by our Honorary Chair, the esteemed former Speaker of the House, Newt Gingrich, who is here with us today. Thank you, Newt, for your leadership and support of the RHC. We are very blessed to have your guidance as we embark on this mission.
I have worked for many years laying the groundwork for the launch of the RHC. This includes meetings with Senate Majority Leader, Mitch McConnell and important House Committee Chairs as well as trips to India with House leadership including Cathy Rogers, the Republican Conference Chair. In addition to Senator McConnell, I am pleased to welcome here today Senators Rob Portman, Ron Johnson, Roy Blunt and Kelly Ayotte, as well as House leaders including Ed Royce, Pete Sessions, George Holding, Robert Dold, Peter Roskam, French Hill and Rodney Davis. Your appearance here and your support of the RHC are very much appreciated. All the leadership and members of the RHC look forward to working with you on strengthening the ties between India and the United States and on educating Hindu Americans on the alignment of their values with those of the Republican Party.
I believe the RHC is destined to become a very important organization in the effort to shape the views of the Republican Party and the United States with respect to policy toward India for many years to come. Thank you all for being here and for your belief in the goals of the RHC and for your amazing support of this organization.